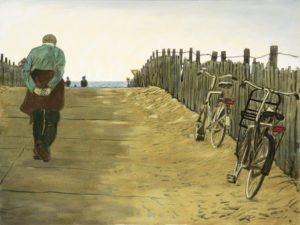 For over 30 years, Peer Christensen has been working in the medium of oil paint. The classical technique of building up successive opaque and transparent paint layers yields the luminosity that has come to define Christensen's style. The artist applies this technique effectively to his subject matters that range from commonplace objects to urban and industrial landscapes. This method is equally successful in his floral studies, still lives and atmospheric night paintings.
Peer Christensen was born in Copenhagen, Denmark and moved to Canada in 1959 as a child. The artist has lived in Peterborough since 1985 where he maintains an active studio practice.
Christensen studied Classical Oil Painting with artist Anthony Thorn and completed a course in Paper Conservation both through the University of Victoria B.C.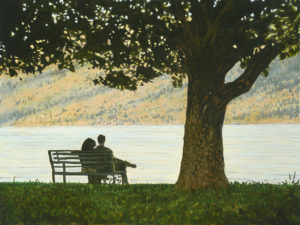 Christensen has been involved in the gallery and picture framing business for over 35 years, working in galleries in Victoria B.C. and establishing his own business in Peterborough in 1986. His knowledge of art conservation and framing is often sought out by such institutions as the Art Gallery of Peterborough, Trent University and Peterborough Museum and Archives.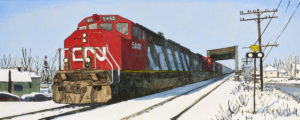 Christensen has served as a member of the City of Peterborough Architectural Conservation Advisory Committee and is currently a member of the City of Peterborough Arts, Culture and Heritage Advisory Committee and the Peterborough Regional Health Centre Art Committee.
Christensen has been invited to speak and participate in lectures and seminars at Trent University, Women's Art Association of Canada, Art Gallery of Peterborough and the Greater Peterborough Economic Development Corporation.
He has been involved as a jurist for the Prince Edward County Arts Council and the East Central Ontario Arts Association and is a jurist for the Peterborough Regional Health Centre Art Collection. The artist was elected to membership in the Ontario Society of Artists in 2018.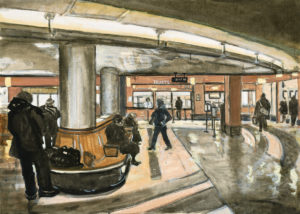 Selected Exhibitions include:
The Industrial Landscape
Solo exhibition Art Gallery of Peterborough 2002
catalogue available
John B. Aird Gallery
Celebration of Ontario Artists
Archives of Ontario Juried Exhibition 2003
Vantage Points
2 person show with Marilyn Goslin
Art Gallery of Peterborough 2010
catalogue available
Art Gallery of Hamilton
Annual Juried Spring Show
Industrial Re-Evolution
Group Exhibition
Hamilton Museum of Steam & Technology 2012
McMichael Canadian Collection
Volunteer Committee Juried Show & Sale 2016
Next2
Toronto Arts and Letters Club 2017
Juried Exhibition
Cherry Carnon Award of Merit Winner
Toronto Outdoor Art Fair
1994- present
Art Interiors
2002-present
Toronto Artist Project
2010- present
2nd place Painting Award 2014
Riverdale ArtWalk
Best Painting Award 2015